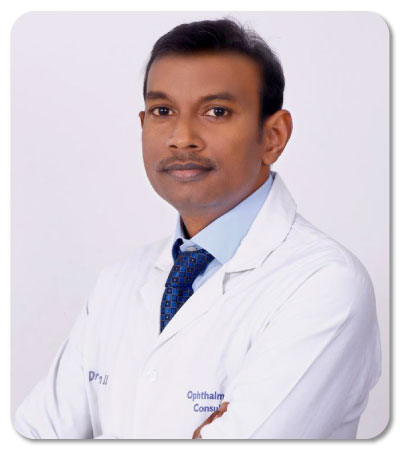 | | |
| --- | --- |
| Speciality | Ophthalmologic Surgeon |
| Qualifications | MS(Ophthal), FLVPEI (Glaucoma) |
| Areas of Expertise | |
| Languages | English, Hindi, Telugu |
J.J. PRAVEEN
MS(Ophthal), FLVPEI (Glaucoma)
Ophthalmologic Surgeon
Dr. J.J. PRAVEEN is well regarded by his peers in Ophthalmology who frequently seek his opinion. He is loved by his patients who appreciate not only the depth of his expertise, but also his engaging personality, caring and outstanding skills.

He has trained at some of the finest institutions like L V Prasad Eye Institute, Hyderabad

He did his post-graduation in M.S Ophthalmology from Regional Eye Hospital, Kurnool Medical College, Kurnool. He also completed his Long term fellowship in GLAUCOMA from L.V.Prasad Eye Institute, Hyderabad .

Professional Experience : Resident at Kurnool Medical College, Kurnool.
Long term Fellowship at L.V.Prasad Eye Institute, Hyderabad.
Consultant in Glaucoma at L.V.Prasad Eye Institute
Consultant in Glaucoma Services, Shantiram Medical college.

It is his nature to be intellectually inquisitive, and he is well regarded in the ophthalmic industry. He participated in many web seminars and meetings.

His most recent publication focused on outcomes of lensectomy and risk factors for failure in spherophakic eyes with secondary glaucoma published in British Journal of Ophthalmology and a Video on Implantable Collamer Lens Explanation with Trabeculectomy in American Academy of Ophthalmology.

With over 15+years of growing surgical experience, . He has performed more than thirty five thousands of successful Phaco surgeries, Glaucoma Surgeries & all other eye surgeries successfully.

Dr. J.J Praveen has developed a strong track record of excellent results with extremely low complication rates. He is among the most experienced cataract and vision correction specialists in the city.

Dr. J.J. Praveen is specialized in pre- and post surgical care for cataract surgeries, supporting and advising patients before and after their operations.

He is specialized in Glaucoma eye disease, and has a vast experience in corneal infections, dry eyes, diabetic retinopathy, ocular trauma, retina screening, squint and uveitis treatment, oculoplasty and paediatric ophthalmology screening.